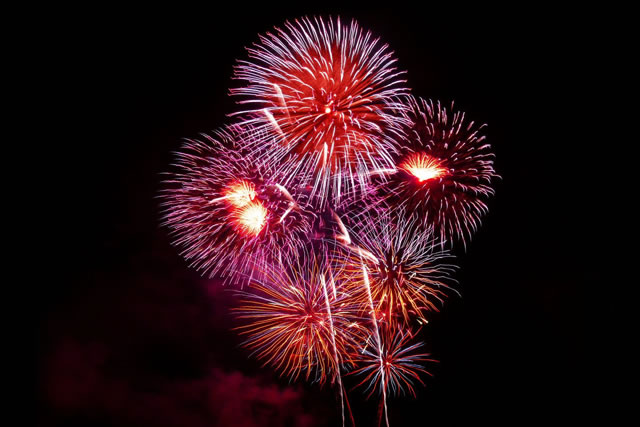 Sending Independence Day business eCards is a great way to celebrate this patriotic day with your American business contacts, colleagues and peers around the world.
In the USA, the 4th of July is a huge holiday, which is celebrated with gusto by just about every American national around the world. Also known as Independence Day (nothing to do with the movie starring Will Smith), this is a day that celebrates the signing of the Declaration of Independence in 1776.
Whilst most people celebrate this day by attending a football or baseball game, others attend parades, regattas or firework shows, arrange a family picnic or light up the BBQ with friends. Others however, take their celebrations a bit further and pump more fun into their day than most other Americans.
For example, for years it has been a tradition on Coney Island in New York to hold a huge Hot Dog Eating Contest. In 2014, the male winner ate an impressive 61 hot dogs in 10 minutes and the female winner ate 34!
So what are the benefits of sending 4th July Business eCards to your organisation's contacts?
Why send 4th July eCards to your business contacts?
There are many reasons to send eCards to your business contacts this Independence Day:
Sending 4th July business eCards is a way to demonstrate your patriotism with your colleagues and peers, as well as a way of sharing your pride in your country.
This is a day that can be celebrated by everyone, regardless of religion or background.
Sending eGreetings to your professional contacts is a unique way to introduce yourself to new businesses and markets.
They are a fun way to create new marketing opportunities for your business.
Professional business eCards help to open a dialogue between organizations and start to establish trust, especially if you send 4th July Business eCards to demonstrate your national pride.
People remember receiving a fun and colorful eCard, particularly business contacts as it's a new and growing way to reach out to other businesses.
Sending Independence Day Business eCards is a very cost-effective and efficient way to maintain and grow your current contacts.
Sending a business eCard indicates that you value that person and their organization and wish to continue to grow and network with them.
What are the different types of Independence Day Business eCards?
There are many types of 4th July eCards focussed around the American flag, fireworks, red, white & blue streamers with balloons as well as classic American symbolism such as stars & stripes.
A few of our 4th July eCard animations include the following:
4th of July Balloons - This is a fabulous red, white and blue themed eCard with red, white and blue balloons rising up into a carnival blue sky with twinkling stars. A happy, merry tune plays while your company logo and corporate message descends from the sky.
4th July Fireworks over Chicago - This eCard begins with the American flag displays in front of the Chicago skyline. As the sun sets, the flag disappears and colorful fireworks explode over the dark city skyline. Funky, up-tempo music plays as your company logo and corporate greeting appears in the card that floats down from above with the city skyline in the background.
Flag over America - Starting with an American flag, the US anthem plays as in the sun rises over the earth. The US flag waves in the foreground and as the sun continues to rise, the US flag fills the screen and a card drops down to display your company logo and message.

All of our business eCards are elegant and professional and have been designed specifically for business-to-business relationships.

What message should I write for my 4th July Day Business eCards?

There are many types of messages you can include in your 4th July Business eCards, here are a few simple suggestions:

We are proud to be a part of our wonderful country – Happy 4th July!
Thank you for celebrating our nation's freedom with us, this 4th of July.
Wishing you and your employees a happy Independence Day, this 4th July.
Join us in remembering all those who have made the ultimate sacrifice so that we can be free.
Happy 4th July, join us in remembering all those who have made the ultimate sacrifice so we can live free.
Wishing you a wonderful 4th July and we look forward to connecting with you soon.
Check out some more sample 4th July greetings here.

Any organisation would be more than happy to receive a 4th July business eCard celebrating this national holiday. Sending eCards on non-traditional holidays such as the 4th of July is a great way to get ahead of your competition and re-establish contact with your business customers.