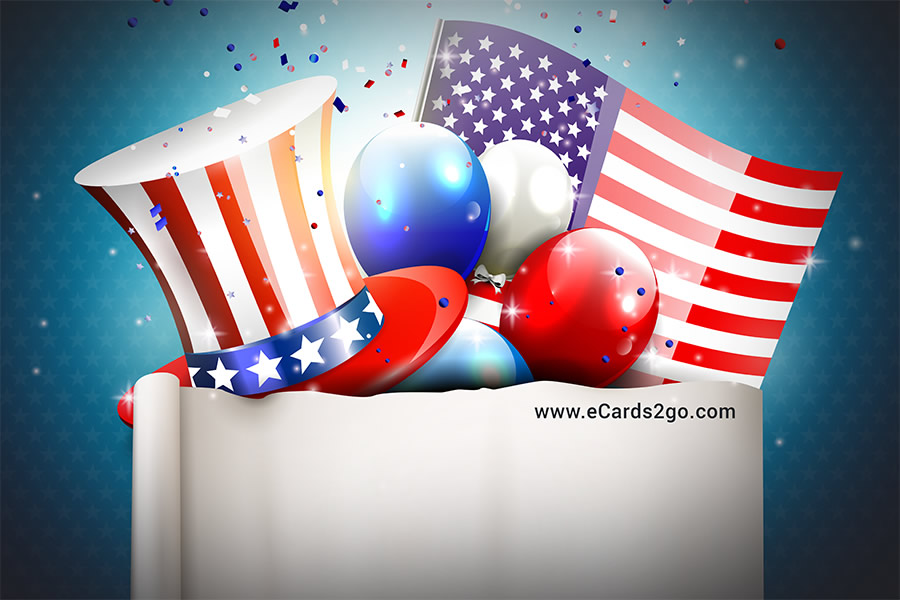 We're excited to be launching our new range of 4th July eCards designed especially for businesses. Independence Day eCards are popular with businesses in the USA as they can be sent to all your business connections regardless of their religious beliefs, business values or cultural background. All of our 4th of July eCards are professionally-designed by our talented illustrators and are perfect to represent any type of business, large or small.
Why send a 4th July business eCard?
Fourth of July eCards are rapidly becoming a popular form of communication in the business world as they are affordable and quick and easy to send to your contacts. Personalized e-greetings are the perfect way to show your colleagues, customers and business associates that they're important to you during this special celebration of freedom and independence.
A 4th of July eCard campaign is a clever strategy for businesses who understand the importance of brand recall.
By adding your logo within the ecard, the recipient is able to clearly identify your business. Using your brand within the ecard is a valuable marketing tool as it places your logo in front of your target market which is a crucial step for improving brand recall.
When is the best time to send 4th July eCards?
We suggest sending your eCards out up to a week before but at least a few days before the 4th of July so your recipients can appreciate the sentiment prior to the holiday.
We make it easy for you to save time. Set up your 4th July eCard campaign ahead of time and schedule them to send out on any day you choose. Pre-scheduling your eCard campaign is the best way to keep organized and avoid any last minute rush!
If you're really stuck for time and are fresh out of ideas, we've done all the hard work for you and have thought of some unique 4th July ecard messages for you.
Independence Day eCards are the perfect opportunity for businesses to connect with each other and share your patriotic spirit. Taking advantage of this unique way to strengthening your business relationships will bring increased opportunities to grow your business.
eCard marketing for 4th July is a light-hearted way to maintain connections with business associates while sharing your patriotic values.