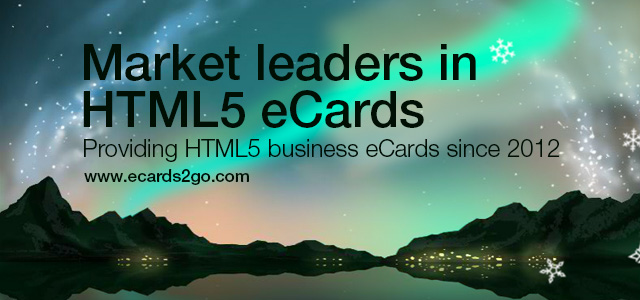 We're proud to be pioneers in the business eCard sector for providing HTML5 animated eCards for businesses. We were the first business eCard provider to use HTML5 animation technology for our business eCards when we launched eCards2go.com in 2012 and we continue to lead the way.
In the last 4 years we've ironed out all the bugs and have spent a lot of time testing and challenging the limits of HTML5 animated eCards.
Despite loving the possibilities of HTML5 animation for the future we are also aware of its limitations for today's broader market.
This is why we continue to offer both Flash and HTML5 animations for each and every eCard. It ensures that every recipient will receive your intended eCard no matter what device or browser they're using. Our research indicates that many corporations around the world maintain strict control over their IT systems and continue to utilise older browsers that aren't able to view HTML5 animation. We specialise in business eCards and that is why we continue to develop our eCards in both Flash and HTML5. Our Flash eCards are viewable in older browsers and our HTML5 eCards are viewable in newer browsers and devices that love HTML5!
The best part is that you don't need to worry about any of this when you select your eCard! Our system is highly advanced and will automatically determine which version (Flash or HTML5) to serve each recipient based on how they view your eCard.
You get great value for money when you purchase a business eCard from us and can be assured that your recipients will be able to view your corporate greeting on whichever browser or device they're using.
We've received some amazing feedback from our customers over the years and we invite you to try us out. It's free to register and you can set up and test as many eCards as you like prior to purchasing. You'll be surprised how quick and easy it actually is!