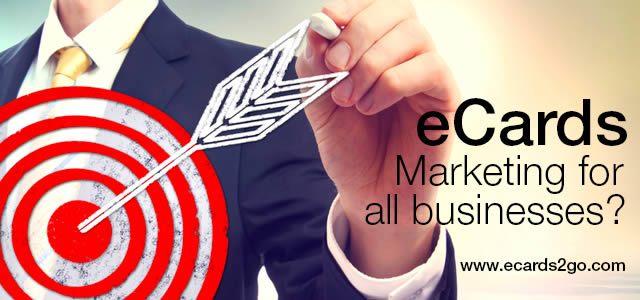 All types of businesses embracing eCard marketing during the holiday season as a way to generate goodwill and increase brand awareness. Animated eCards that have been created especially for business use are creative, professional and engaging to provide a memorable user experience. They're proving to be a useful marketing tool to complement existing digital marketing efforts and best of all, are affordable for businesses of all sizes.
Business eCards create unique marketing opportunities
eCards used by businesses provide an opportunity to engage with customers and establish a personal connection without the pressure of a sales pitch. They are a great strategy to nurture your customers and remind them of your appreciation for their business. With no "hard sell" pressuring them to buy your product or service, a personalized eCard offering holiday greetings shows that you value their business relationship. eCards for business use communicate a powerful message and continue to grow in popularity as a unique way to interact and engage with customers.
Build business relationships with holiday eCards
An eCard campaign for sending out Christmas or holiday greetings is the perfect opportunity to remind people about your business or re-establish contact with clients you've been out of touch with for awhile. All types of businesses are using eCard campaigns as part of their ongoing marketing strategy for improving their brand recall when customers need their product or service in the future.
When can I use a business eCard?
The most popular time of year for sending eCard greetings is around the Christmas and New Year period with the majority of Christmas business eCards sent out within this 2 or 3 week period.
Other important holidays such as 4th July and Thanksgiving are also popular with businesses to send eCard greetings as these celebrations provide a great opportunity for re-establishing connections with corporate contacts.
Milestones and company celebrations such as anniversaries and special achievements are also the perfect occasion for sending business eCards.
Sharing celebration milestones with customers is a great opportunity to establish the strength of your brand and brings attention to your successes.
Many businesses, including very large corporations enjoy sending birthday eCards to their employees. This is a fun way to connect with your staff and makes them feel special on their special day. With the opportunity to personalize each eCards for each employee, birthday eCards are a lovely way to surprise and delight employees of all ages.
10,000 trees are cut down annually in China to make holiday cards. 1
Business eCards are the environmentally-friendly solution
An animated eCard campaign sent to every customer, supplier, subscriber, sponsor etc is a more efficient and cost-effective solution when compared to the process of sending out traditional printed cards. With the growing concerns about excessive paper usage and waste, not to mention the energy expended to make, print and deliver paper cards, animated eCards are the perfect solution for environmentally-aware businesses worldwide.
1 Source: Xinhua News Agency