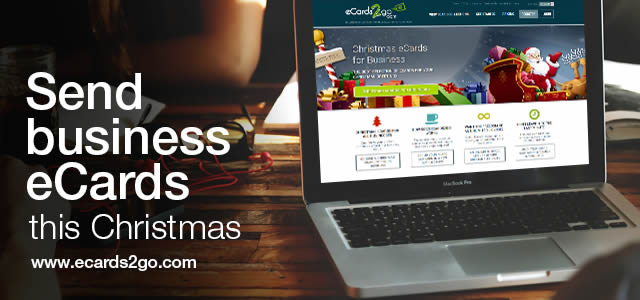 Finding unique and interesting ways to market your business while engaging your audience is a constant struggle for business owners. As we live in a world where visual messages have the most direct and immediate impact, sending a marketing email with an eye-catching eCard is a great strategy that savvy business marketers are taking advantage of. Sending business eCards is an inexpensive way to connect with your clients.
Here are 4 reasons why you should consider using business eCards for your Christmas greetings.
1. Visual marketing message
Every marketer understands how difficult it can be to create a marketing message that stands out from the clutter in recipient's inboxes. With the huge volume of emails sent each day, there's only a small opportunity to create an impact. Visual advertising offers a unique opportunity for success. Sending a business eCard allows you to communicate your message very quickly. Most importantly, it places your brand right in front of your target market. Any time your logo or brand is placed in front of your customers, your brand recall increases which will have an immediate impact on the success of your marketing efforts. Visual marketing messages such as business eCards are powerful methods of increasing your brand loyalty and trust factors.
2. eCards are eco-friendly
As business eCards are a digital item, it goes without saying that eCards are a more eco-friendly, efficient alternative to paper greeting cards.
According to the Greeting Card Association, American consumers purchase approximately 6.5 billion greeting cards each year with about 1.6 billion of those being Christmas cards. When you consider the manufacture of the Christmas card, the envelope, the transport and postal delivery of the card, it's clear that business eCards are a better alternative. When you sending a business eCard for your Christmas greeting it shows your customers that you are an environmentally-friendly business.
3. eCards save you time and money
You may be surprised how much time and money your business will save when using eCards for your Christmas greetings. The cost of the eCard together with credits required to send to your recipients is very likely to be less than the cost of purchasing paper cards and stamps. The biggest cost saving is in the time you will save by sending business eCards. Hand-writing hundreds of cards can be a very laborious task so it's not surprising that many paper cards a received without an actual message, only signatures! What a wasted opportunity.
Sending Christmas eCards for business ensures that each recipient receives the intended greeting and you can also send unique messages to each recipient if you prefer. It's quick to set up and even quicker to send out.
4. eCards drive traffic to your website or landing page
Every good marketing message has the goal of getting the recipient to click through to a website, micro-site or landing page to encourage further interaction such as a product purchase or an online enquiry. It's no different when sending business eCards. You can easily add a link to your eCard message to drive traffic through to your website or landing page. These types of campaigns are a great success because eCards are not typically used for aggressive sales pitches so recipients will have their guard down, allowing your marketing message to get though.
Professional business Christmas eCards are in a completely different league to the questionable 'free' animated eCards that have been around since the invention of the animated gif. A reputable business eCard provider won't bombard you with flashing banner ads and their eCards are professionally presented, thoughtful and stylish. Christmas eCards for your business are a great marketing tool for savvy business marketers.