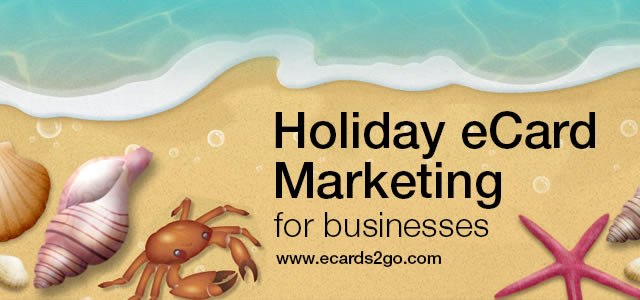 As a business owner, you have a limited marketing budget, so you need to be judicious in where you spend your money. This means that you should allocate your budget to proven marketing methods which have been shown to work and have a positive ROI.
One type of campaign, which is becoming very popular, is using eCards to send holiday greetings to colleagues, customers and other people in your business network.
Digital holiday greetings have become very popular over the last few years
The popularity of eCards reflects the shift in how eCards are being perceived. Online greeting eCards used to be seen as a cheap, less thoughtful option, but as more businesses are heading online, digital greetings and messages are right on trend.
Most probably, your business already has a consistent and growing online presence, which as we all know, is now a necessary part of business in our internet hungry world. Remaining competitive is paramount to increasing your profits and growing your business, so it only makes sense to leverage new technology for your business.
This where eCards enter the picture. eCards are cost effective, free up your valuable time, demonstrate that your company supports the environment and they are a great way to strengthen your business relationships.
Holiday eCards are very cost effective
When you send traditional holiday greetings cards to your customers, colleagues, potential customers and across your business network, you have to spend money on buying and posting the cards. As you know, this can add up to a fairly sizable chunk of money, whereas eCards are created in the digital space and are a much more cost effective option.
You also need to design your traditional cards, as you can't just use normal over the counter cards, if you want to present your business in a favourable light. This means that that someone on your staff must organise all of these cards well in advance, so there is enough time to send them before the holidays.
As you can imagine, a member of your staff has to devote a serious amount of time to organising your traditional greetings cards. All of which comes back to you in both employee time and wages, compared to eCards which only take a matter of minutes to design, create and send.
As you can see, eCards are not only cheaper than traditional greetings cards, but they don't cost you as much in employee wages, because your staff no longer have to perform a labour intensive job.
Sending corporate holiday eCards frees up your valuable time
The time just before holidays arrive is always a busy period for businesses, so you want your staff working full-tilt on your business, wrapping up your sales for the holidays. Having a staff member taking time out to organise your traditional greetings cards can make a big difference to your work load, resulting in other staff members having to take up the slack.
On top of these extra workload issues, you have the additional problem that deadlines for traditional printing orders tend to close a few weeks ahead of the holidays. This means that if you haven't already ordered your traditional holiday cards, your staff will be even busier than ever trying to find appropriate corporate greeting cards at the last minute.
Welcome to the digital age where eCards can be designed, personalised and sent in minutes – even at the very last minute.
Using eCards shows that your business supports the environment
With the growing concern about our global environment, it is important that businesses let their customers know that they hear them and that they are on their side. Just saying that you support the environment isn't good enough, it is much better to actually demonstrate your support to your customers.
This support can be easily validated by sending eCards, rather than traditional greetings cards, because eCards are the ultimate demonstration of being eco-friendly. You don't need to cut down trees and pollute the air to send an eCard and this fact will be clearly understood by your customers.
You can even promote the fact that you are an environmentally friendly company and inform your customers that one of the ways you demonstrate this commitment is by using eCards.
Holiday eCard greetings can be a great way to strengthen your business relationships
Sending eCard to your colleagues, staff, suppliers and peers throughout your business network is a very effective way to strengthen your business relationships. You can sent an eCard simply to catch up with a business acquaintance you haven't seen for a while and to maintain some form of contact with them.
You can use them to foster business opportunities with new or potential suppliers, with potential retail outlets and with people you would like to initiate a business relationship with for mutual growth. There are many other reasons to send greetings cards through your network, but in the end, all of these result in building and strengthening relationships with people and other businesses.
An additional benefit of sending eCards to your staff is that you also make your own workplace feel warmer and friendlier during the holiday season, as you show them how much you appreciate their efforts during the year, on behalf of your company.
Make sure that your holiday greeting can be personalised
One thing to keep in mind is that you need to personalise your business eCards, as this establishes a positive connection between your company and the recipient. With the right execution, holiday eCards can be the perfect way to strengthen your business relationships, but if you choose a poorly designed eCard that looks cheap with a generic greeting, it can feel like a tacky marketing ploy.
This is the last thing you want to happen, so you need to make sure that you only select the best eCards to send across your business network and also that you include a personalised message on every eCard.
Type of eCards to avoid for corporate greetings
For business purposes you need to keep your selection of eCards on a professional level, so make sure that your staff know to avoid certain themes. For example, greetings that portray excessive drinking or sexual scenes are probably not the wisest choice for a business greeting eCard! Don't forget to keep it professional at all times.
For Christmas greetings, more appropriate scenes might include Christmas trees, wintery forest landscapes, holly and ivy, snowflakes falling, Christmas ribbons and baubles, reindeers or snowmen. You need to keep the design of your eCard professional and elegant and you want the eCard to reflect the ethics and morals of your company.
eCards are the way of the future and will not only save you money and time, but also portray a professional stance to your customers and business colleagues. With eCards you can clearly demonstrate that your company is eco-friendly, is keeping up to date with technology and that you are aware of the global issues which affect your customers. eCards are simply a very sensible marketing approach, one which will pay you back dividends in customer loyalty and business growth.